Miguel is a little boy from Macamic, a town in the northern region of Abitibi in Québec. At the age of 16 months, he was diagnosed with leukemia and treatments went on for years. Last spring, he went swimming with dolphins with his big brother and his parents.
Children will definitely never cease to astonish their parents. Miguel's mom, Isabelle, still wonders where her son - who is growing up in the boreal forest of northern Quebec – got the crazy idea of swimming with dolphins. But what a great idea!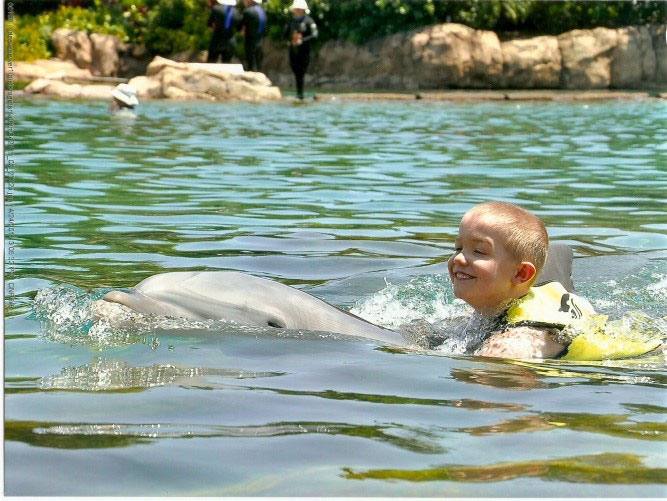 Miguel was only 16 months old when tests revealed that he was suffering from acute lymphoblastic leukemia. A long series of treatments ensued. The first step was for him and his mom to leave the village of Macamic, where they lived, and to move to Montreal, 700 km south, where Miguel was hospitalized at Sainte-Justine hospital for two and a half months. But Isabelle isn't the type to feel discouraged. She found ways to comfort herself from the anguish and pain of leaving behind her husband and her eldest son. "I made new friends, other moms who were going through similar things" she said with the assurance of those who do not fear.
Back in Macamic, Miguel received other treatments, at a rate of once a week for almost two years, and for which he had to go either to La Sarre or Rouyn-Noranda. This goes to show what an impact a serious illness can have on family life.
When Isabelle first heard about the Children's Wish Foundation, Miguel was still too young to express what his most heartfelt wish would be. But, to simply know that he would one day be granted his wish and that no one could take that away from him, gave him the necessary courage to make it through the treatments.
"The illness takes control of your life, explains Isabelle. I had to leave my work to take care of Miguel – and you don't get any unemployment benefits when you are not sick yourself. And my husband took care of our eldest son with my mother's help. Yet life has to go on. Despite the treatments, Miguel started school like every other kid. But we didn't even have time to think about going on a trip. So when Miguel said he wanted to swim with dolphins, it was like a dream, something we would never have done, totally out of our world."
Indeed, swimming with dolphins in Florida, what a culture shock! Palm trees, beaches, large highways crisscrossing each other, the Americans – who speak English – the dolphins… nothing looked like anything in Abitibi! For one week, Miguel and his family were transported in an entirely different world from their usual environment… like in a dream. "And then, thanks to Children's Wish, Miguel allowed the whole family to turn the page", concluded Isabelle.
As soon as Miguel came back from his trip, he brought pictures to school to show his friends that his dream had really come true.